Delicate nameplate necklaces, signet rings, and chunky gold hoops – the tentpole pieces you pull from your jewelry box again and again. After months of wear, they're probably starting to feel a little tired and that's a real shame, because those pieces are still just as trendy as ever. So how do you re-up your interest in your most-used sparklers? Easy. You add a fistful of new baubles to the mix.
There isn't much to be said for the year 2020, but let me tell you, the jewelry trends are fire. Heavy metal chains, highlighter enamel, and rocker-esq pearls that look nothing like the ones on grandma's nightstand – yeah, there's a lot of cool sh*t happening in the jewelry world. These glitzy items will go hand-in-hand with your usual bling to make the whole vibe feel fresh and new. See for yourself.
Hardcore Hardware
Kevin MazurGetty Images
The contents of your average hardware store (safety pins, padlocks, keys), will have a starring role in your jewelry box starting… right now. Effortlessly nail down that gothic, e-girl vibe with these edgy metals.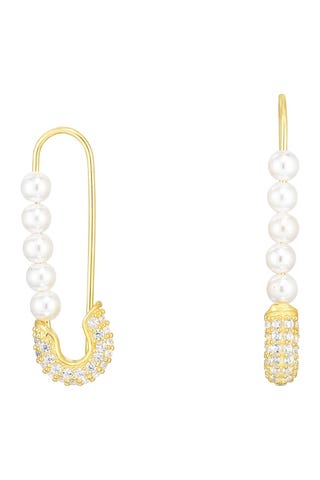 14K Gold Plated Pearl Safety Pin Earrings
Sphera Milano
nordstromrack.com
$39.97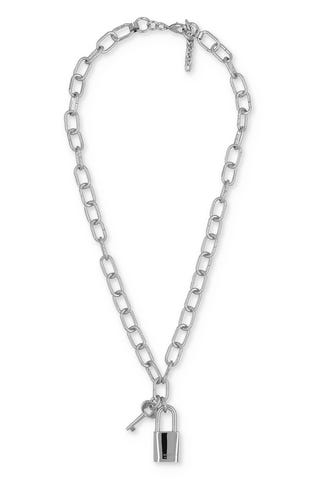 Padlock And Key Chain Necklace
The Kooples
bloomingdales.com
$125.00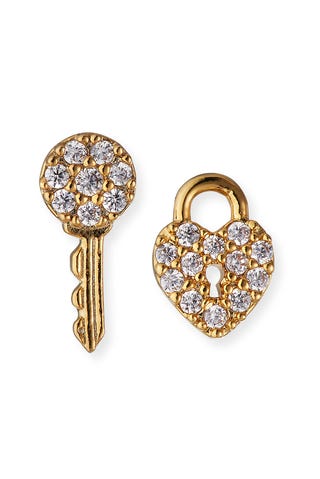 Lock and Key Post Earrings
Tai
neimanmarcus.com
$55.00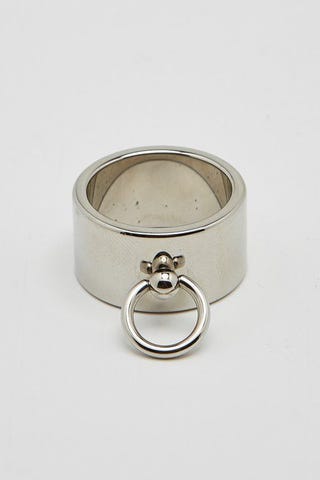 Silver Ring
Bagatiba
bagatiba.com
$28.00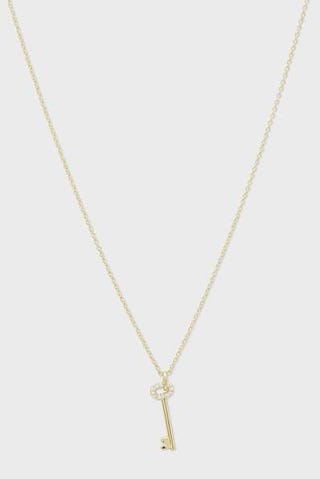 Kara Key Charm Necklace
Gorjana
gorjana.com
$55.00
Non-Preppy Pearls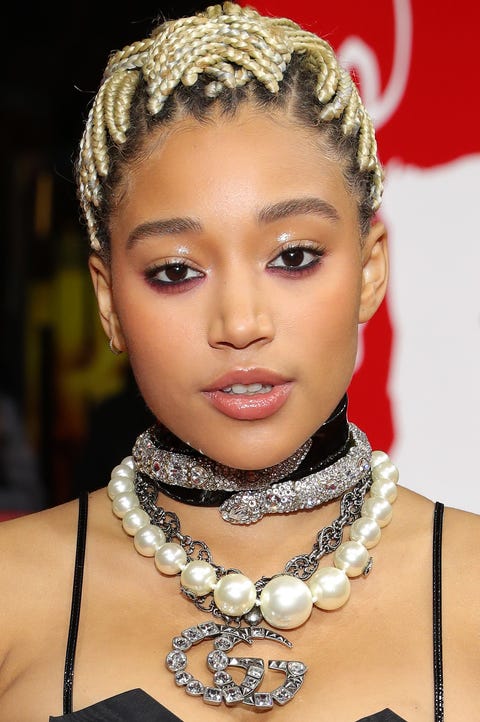 Andreas RentzGetty Images
Pearl jewelry has officially been ~rebranded~. Up until this year, it was on reserve for little old ladies and the type of people who wear powder pink cardigans. In 2020, however, this age-old jewelry staple has taken a turn for the cool (thank you, Harry Styles). Runway details, like glass beads and metallic cuffs have turned the boring gem into straight-up Insta-bait.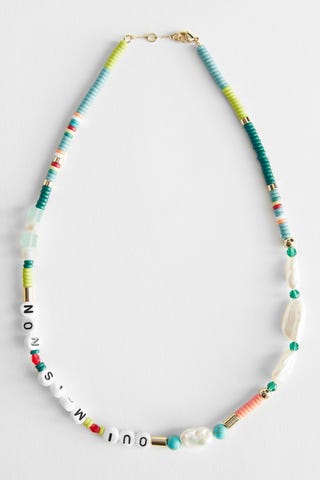 Beaded Charm Necklace
& Other Stories
stories.com
$29.00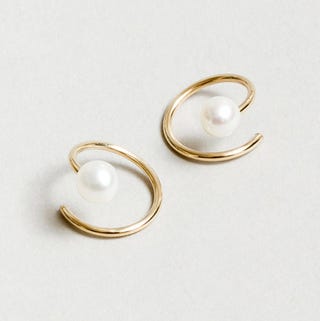 White Pearl Swirl Studs in Gold
Wolf Circus
wolfcircus.com
$75.00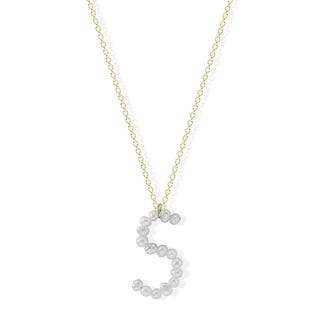 The Pearl Initial Necklace
Argento Vivo
argentovivo.us
$98.00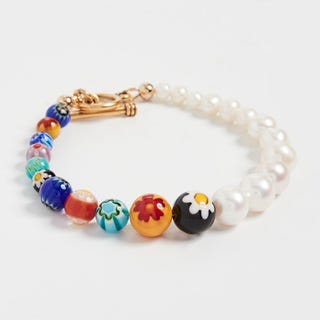 Better Half Bracelet
Brinker & Eliza
shopbop.com
$108.00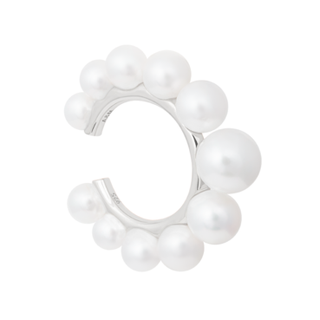 Pearl Statement Ear Cuff in Silver
Astrid & Miyu
astridandmiyu.us
$62.00
Solo Charms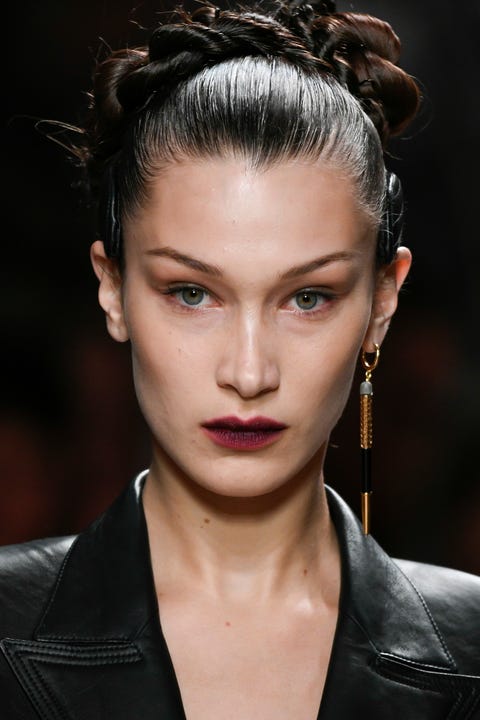 Victor VIRGILEGetty Images
Ear stacks are to 2020 what arm parties were to 2014. It's the fashion-girl secret to crafting a perfectly understated (but still really cool) look. Customize your ears with this asymmetrical trend. Rock a single charm on one side and nothing on the other or mix and match your single charms for a 100% unique pair-up.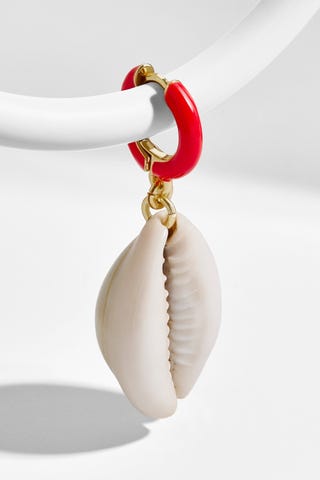 Costa Drop Single Earring
BaubleBar
baublebar.com
$18.00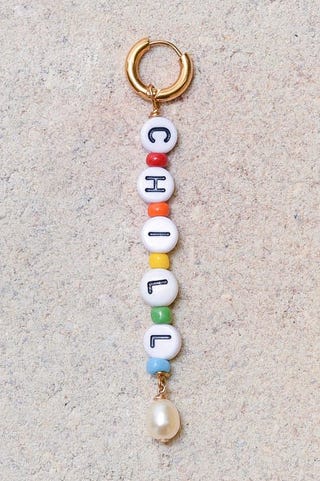 All The Feels Earring "Chill"
Eliou
eliou-eliou.com
$58.00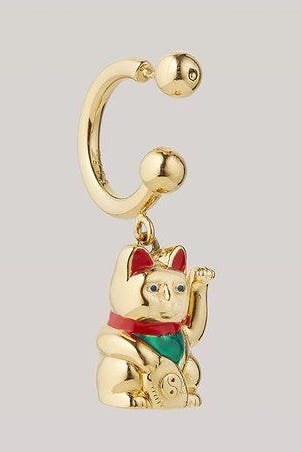 Maneki Neko Earring
Safsafu
safsafu.com
€102.88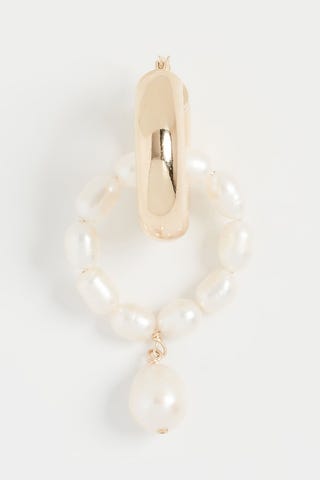 Statement Shells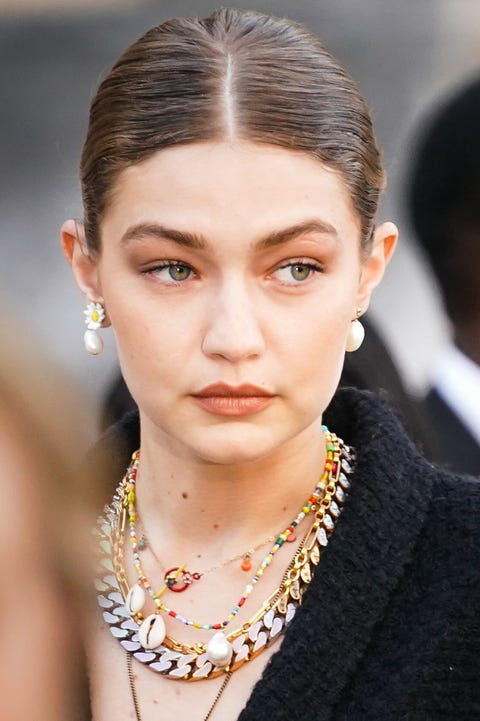 Edward BerthelotGetty Images
Any VSCO girl worth her Instagram filter already has a strand of beachy cowrie shells hanging from her throat, but we're not here to talk about that. Nope, I'm more interested in the upgraded designs that are cropping up all across the internet. Pearlescent turbo shells, earthy horns – basically, what Gary the snail would wear if he were an influencer in 2020.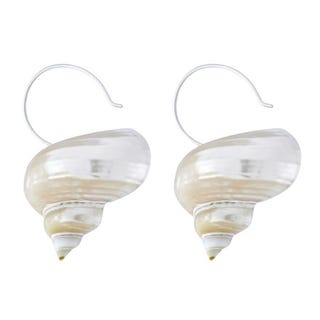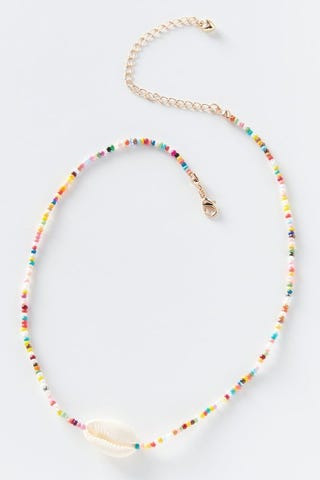 Cowrie Shell Rainbow Beaded Necklace
Urban Outfitters
urbanoutfitters.com
$16.00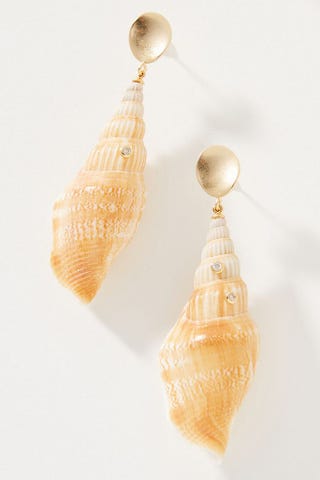 Artemis Shell Drop Earrings
Serefina Anthropologie
anthropologie.com
$29.95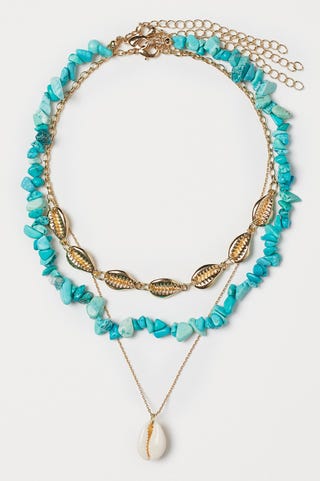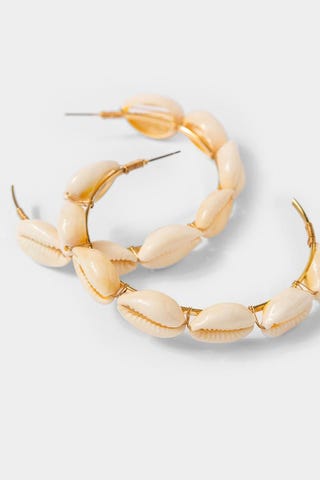 Raleigh Cowrie Shell Hoops
Francesca's
francescas.com
$20.00
Neon Everything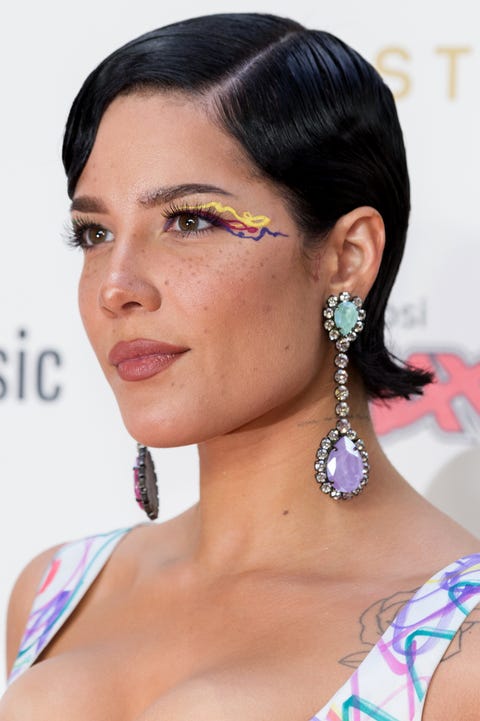 Icon SportswireGetty Images
You literally can't click on a trend report from the past two years without seeing the word "neon" somewhere on the list (usually accompanied by a photo of Kim Kardashian). Day-glo hues have been a favorite of celebs for the past few seasons and finally, we've been blessed with a toned-down version normal people can actually wear: jewelry. A teeny glint of electric yellow at your wrist or fluorescent pink on your lobes feels wearable and so effing cool.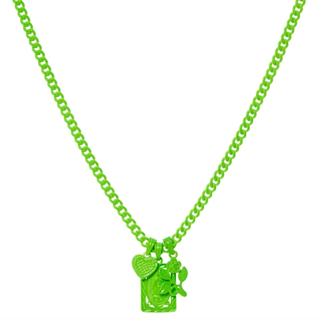 Rainbow Triple Charm Necklace- Neon Green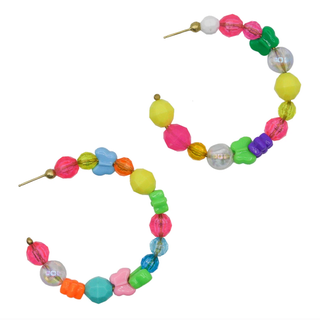 Joyful Hoops
Susan Alexandra
susanalexandra.com
$85.00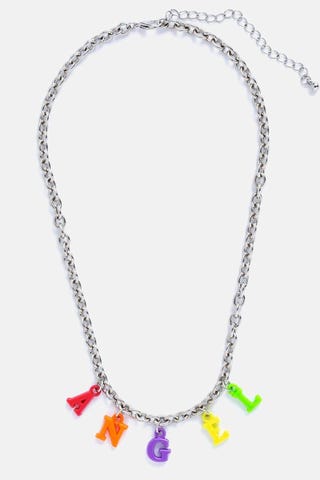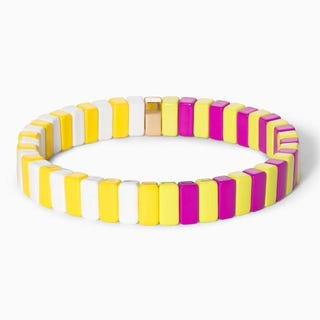 Neons & Neutrals Bracelet
Roxanne Assoulin
roxanneassoulin.com
$75.00
Fresh Fruit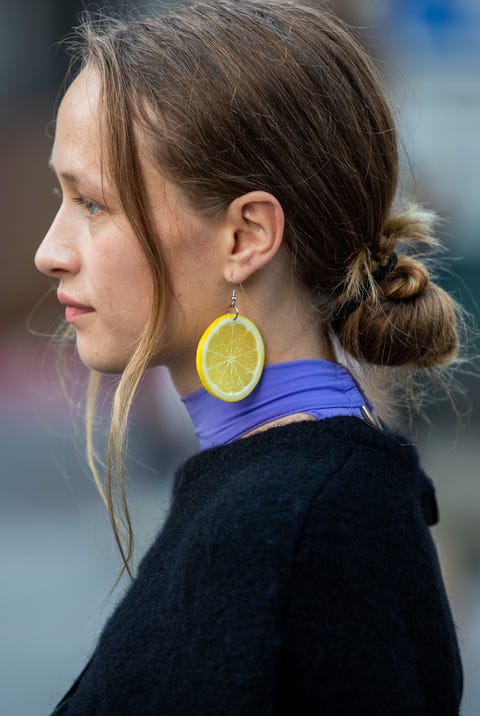 Christian VierigGetty Images
Food-based accessories have held a starring role in Katy Perry's wardrobe for years and the style has just recently reached the mainstream. Even if kitschy prints and berry shades aren't normally your gig, the dainty iterations you can shop now feel surprisingly non-girly.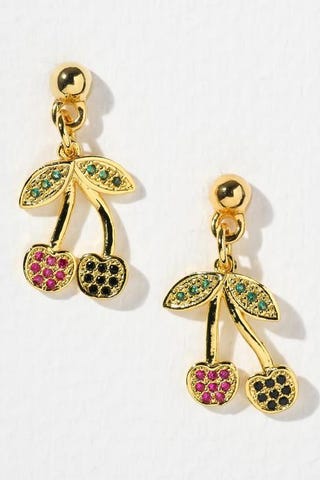 The Cherry Earrings
Vanessa Mooney
vanessamooney.com
$40.00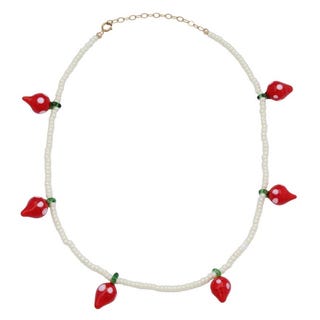 Strawberry Choker
Poppychain
etsy.com
$49.99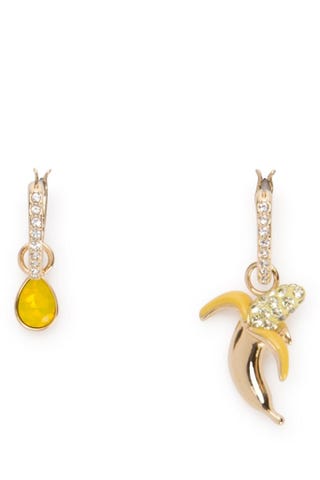 Swarovski No Regrets Banana Earrings
Swarovski
cettire.com
$61.33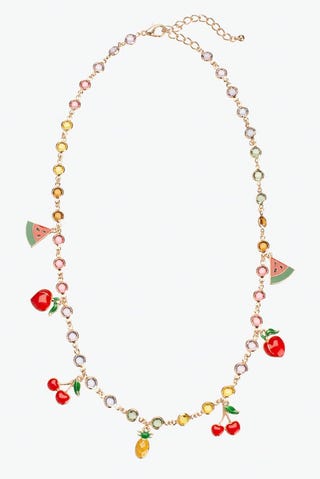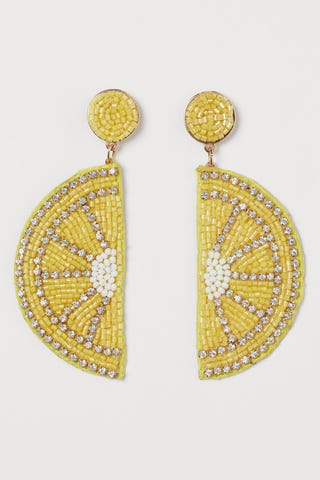 Big, BIG Hoops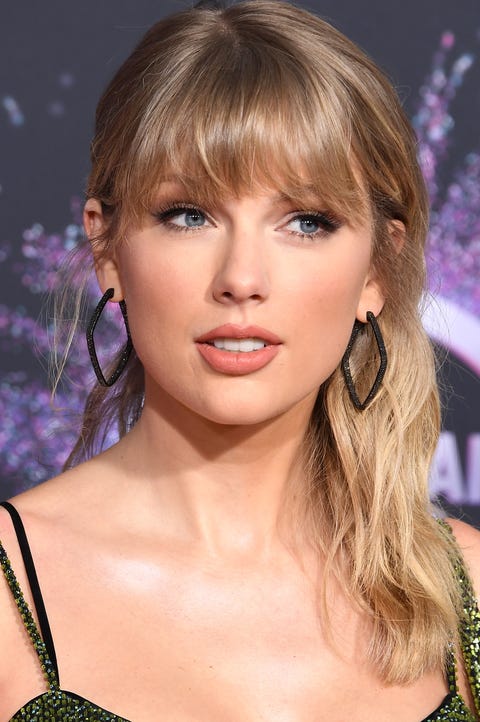 Steve GranitzGetty Images
Hoops never go out of style, they just get more in style. You can still reach for your prized gold circlets (you know, the ones you've been wearing on a daily basis since 2018), but do yourself a solid and add a punched-up version to your jewelry tray, as a treat.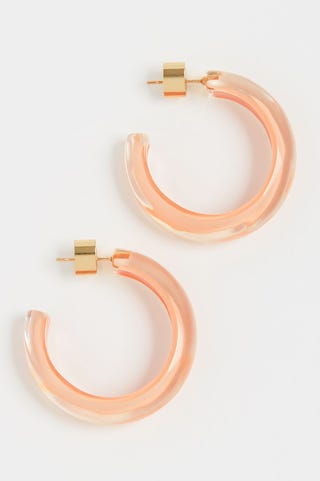 Small Jelly Hoops
Alison Lou
shopbop.com
$125.00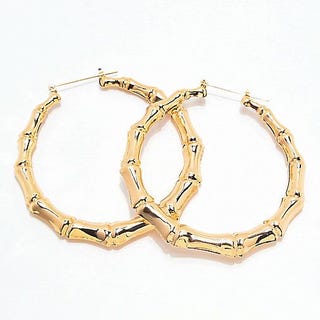 Stone + Locket Bamboo Gold Hoop Earrings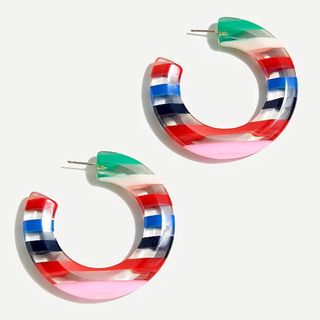 Large beveled hoops in tortoise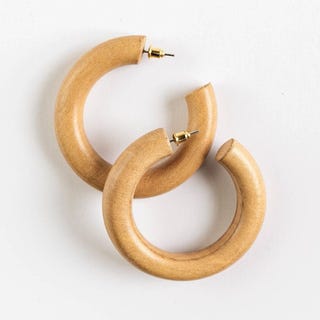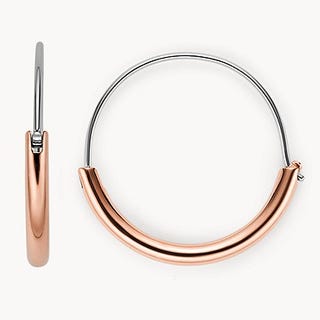 Rose Gold-Tone Steel Hoops
Gold-Tone
fossil.com
$24.00
Jumbo Chains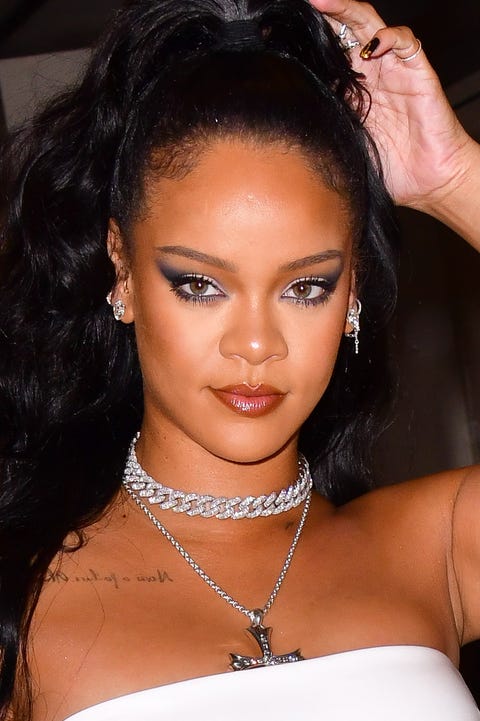 James DevaneyGetty Images
Iced-out chains have been a staple in streetwear for literal decades, but usually, the fun stops at the neck. XL chainlinks are now being featured on earrings, rings, and bracelets, too. The bigger the better.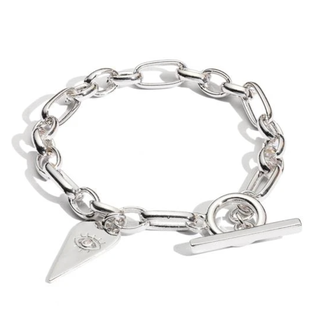 Heart Chain Bracelet
Mulberry and Grand
mulberry-grand.com
$29.00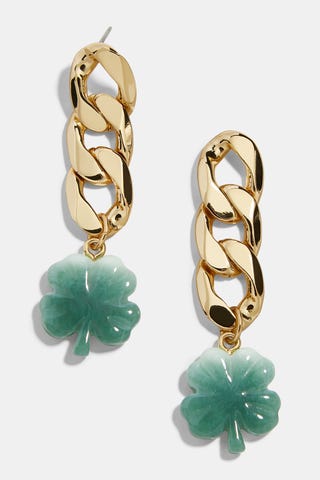 Amulette Curb Chain Drop Earrings
BaubleBar
baublebar.com
$38.00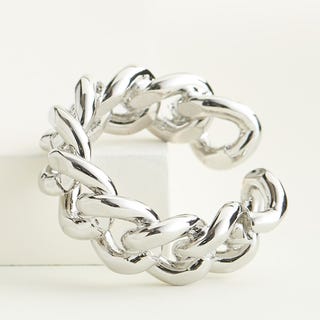 Chain Link Ring
Elizabeth and James
kohls.com
$13.50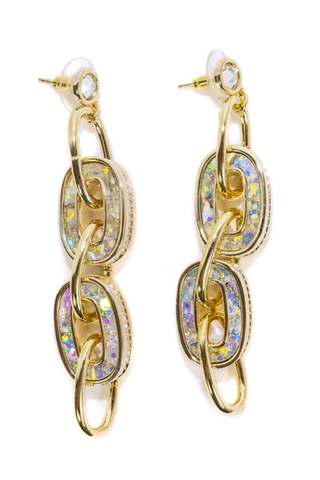 Let's Link Up Earrings
TLR Jewelry
tlretro.com
$195.00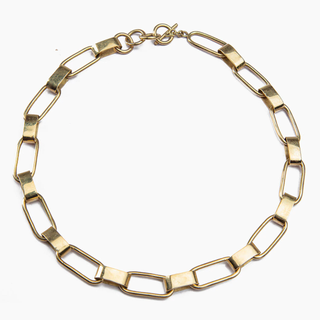 Soko Capsule Chain Collar Necklace
Madewell
madewell.com
$168.00
Follow Kelsey on Instagram!
Kelsey Stiegman
Senior Style Editor
Kelsey is Seventeen.com's fashion expert and resident Harry Potter nerd.